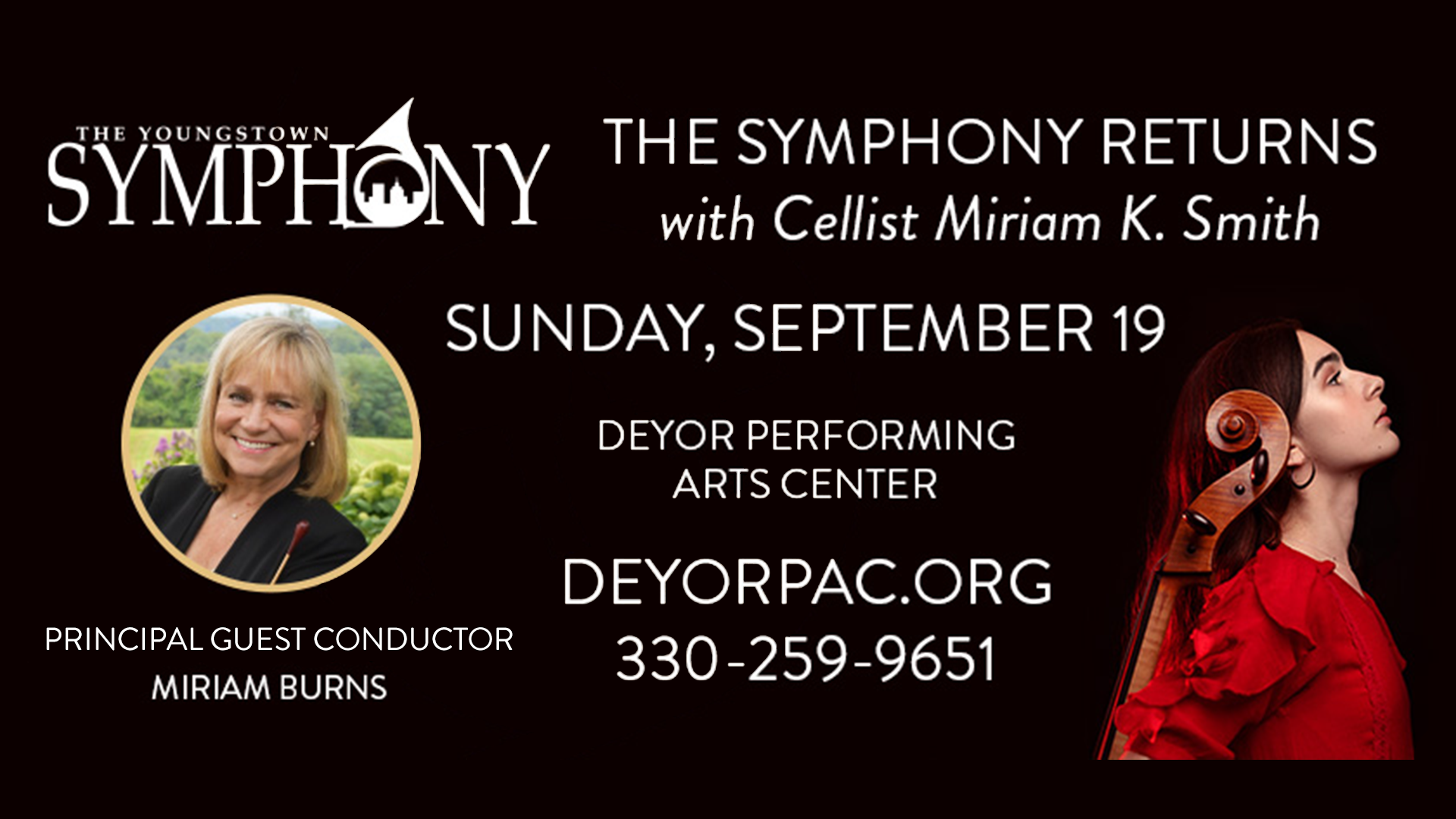 The Youngstown Symphony Orchestra Returns With Cellist Miriam K. Smith and Principal Guest Conductor Miriam Burns
The Youngstown Symphony Orchestra returns on Sunday, September 19, 2021, at 4:00 pm, led by Principal Guest Conductor, Miriam Burns, and featuring guest artist Miriam K. Smith at DeYor Performing Arts Center in the Edward W. Powers Auditorium. The concert will feature the classical works of Tchaikovsky, Mendelssohn, Berloiz, and Ginastera.
An award-winning conductor, Miriam Burns presents an extensive and impressive resume. She debuted as guest conductor with the Rochester Philharmonic in 2018 and was re-engaged for another performance at the end of the season. A former Assistant Conductor of the New York Philharmonic, Ms. Burns is currently serving as Artistic Director and Conductor of the Paragon Philharmonia in Northern Virginia, Visiting Professor and Director of the Orchestras at The Ohio State University and continues as Music Director of The Orchestra of the Redeemer in New York City where she resides.
Miriam K. Smith, a young American cellist, is rapidly gaining recognition as a concert soloist. Having performed concertos with symphony orchestras around the country starting at 8 years old, she has performed with ensembles including Cincinnati Symphony, Louisville Orchestra, Wisconsin Chamber Orchestra, Hilton Head Symphony Orchestra, and Kentucky Symphony Orchestra. A sought after chamber musician, she has performed in recitals around the country.
Both season ticket packages and single concert tickets are on sale. Single concert tickets range from $42 to $62, inclusive of all fees. Discounts are available for seniors and students. Tickets are available at both the DeYor Performing Arts Center Box Office by calling 330-259-9651 and the Florence and Ward Beecher Box Office at Stambaugh Auditorium by calling 330-259-0555. Both box offices are open Monday through Friday, 10:00 AM – 5:00 PM. Tickets are also available 24 hours a day online at: youngstownsymphony.com, deyorpac.org, and stambaughauditorium.com. 
Season Sponsorship packages are available and include program advertising, premium tickets and invitations to exclusive VIP events. For more information, contact JoAnn Stock, Chief Development Officer at fundraising@youngstownsymphony.com or by calling 330-744-4269.